EYE ADVICE Clinics in Oakleigh and South Yarra
Our optometric clinics are situated in the central locations of Oakleigh and South Yarra. We have purposefully chosen to operate from a house setting in both locations. We have found that the serene atmosphere of a house environment allows for both patient and practitioner to be more at ease. This enables good communication. A more relaxed patient leads to less neuromuscular unrest of his/her visual system, which is essential for the refractive error to be fully revealed for measurement by the practitioner.
EYE ADVICE, Oakleigh
The practice was originally established within a medical centre in Oakleigh in 1983. The Oakleigh clinic has been operating independently in its current location since 1990. The clinic can easily be found on the corner of Warrigal Rd and Davey Ave. There is ample space for car parking and the clinic can be accessed by wheelchair.
The clinic is a five-minute walk from the Oakleigh train station, which is serviced by the Pakenham and Cranbourne train lines. The Mordialloc to Box Hill bus (No. 700) travels along Warrigal Road and stops close to the corner of Warrigal Road and Davey Ave where the clinic is located. Several other bus routes service the Oakleigh train station.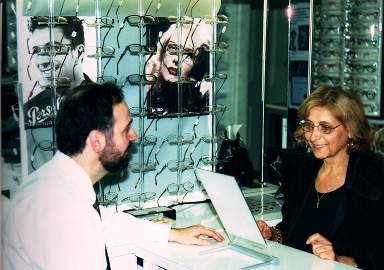 EYE ADVICE, Oakleigh
84 Warrigal Road Oakleigh 3166 TEL: (03) 9569 7299
Consultation Times
Mon
Tues
Wed
Thurs
Fri
Sat
9:00am -
1:00pm
9:00am -
1:30pm
2:00pm -
6:00pm
Directions

EYE ADVICE, South Yarra
The South Yarra clinic has also been operating since 1983. It is situated in a relatively quiet one-way street. The clinic can be accessed by tram (No.72, stop No.29) and by bus route No: 220 on Commercial Road. The clinic can also be accessed by train as we are situated between the South Yarra and Prahran railway stations. The Packenham and Cranbourne lines run through South Yarra station and the Sandringham line runs through both Prahran and South Yarra Stations.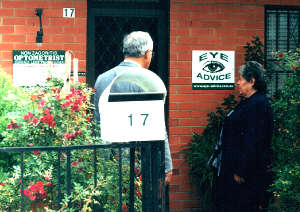 EYE ADVICE South Yarra Consultation Times
17 Osborne Street Sth Yarra 3141 TEL: (03) 9867 6994
Mon
Tues
Wed
Thurs
Fri
Sat
9:00am -
1:00pm
2:00pm -
6:00pm
Please call and let us know if an appointment time outside these hours is required.
Directions